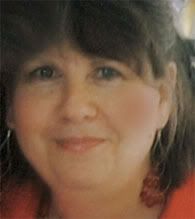 Hi, I'm Carolyn, a Jersey Girl and I've been hanging around the net since the mid-nineties! Married 38 years in August to my one and only blind date; two children-Evan, 32; Lauren, 29; Breast Cancer survivor in remission since May '05; Positive Thinker as much as possible; daily blogger at http://wildgypsyart.blogspot.com/; sometime house cleaner; AND, since I've saved the best for last, PROFESSIONAL ARTIST SINCE 1971!!! I'm a regular seller of original pieces on eBay but at wildgypsyart, my own little corner of Etsy, I sell archival prints in artist trading card size of 2.5" x 3.5".

Today's Giveaway is for an archival print from my popular eBay series "Flower Fairy Houses".


To Enter:
Pop over to my Etsy shop,WildGypsyArt

Choose a piece that 'speaks' to you and in 50 words or less tell me why!

Be sure to include your email addy so when YOU win I can deliver it safely to your door.


for an ADDITIONAL chance to win follow this team blog and then leave a SECOND COMMENT.

*****************************

The contest will end on 2/28 and is open to everyone worldwide.

The winner will be chosen at random from all entrants



*****************************

Don't forget to check out day 1, 2 and 3 of our giveaways and be sure to come back tomorrow for a new one.





Good luck!!!